Which Bookie provides honest, independent and straightforward bookmaker reviews written by real people. If you want to find out the truth about an online bookie before you sign up, then you've come to the right place. We're here to help you choose which bookie is best for you to join.
Top Rated Bookmakers
Bookmaker Reviews & Ratings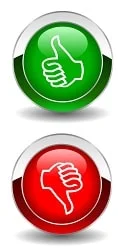 Which Bookie reviews and rates the top online bookmakers in a number of categories. Read honest, independent reviews to compare how each bookmaker performs in the areas you care about most.
Bonus – We rate the bookmaker's welcome bonus. How generous is their sign up offer? How easy is it to claim? Do you need a promo code?
Features – Does the bookmaker offer popular features such as cash out, live streaming, mobile betting or best odds guaranteed?
Service – How good is the bookmaker's customer service? Is their helpdesk fast and friendly? We put them all through their paces, so we can let you know how they perform.
Choice Of Markets – Does the bookmaker offer a good choice of markets to bet on?
Payments – What payment methods does the bookmaker offer, and how fast do they process your withdrawals?
Helping You Decide Which Bookie Is Best
Whatever you like to bet on, whether it be football, horse racing, tennis, golf, greyhounds or in the casino, there is a bookmaker for you. Here at Which Bookie we will help you select the correct one for you with our detailed and impartial bookmaker reviews.
There a lot of advantages when setting up a new online betting account. Whether it is your first or even an additional on-line bookmaker, some of the benefits you can get are listed below. Our detailed reviews will tell you which bookies offer these important features.
The convenience of being able to bet online or via your mobile whenever and wherever you like.
The chance to get more competitive odds. You can get better odds online than in your high-street bookie, and even compare different on-line bookies.
When signing up to a new bookie you can take advantage of welcome/sign-up bonuses. These include free bets, enhanced odds and deposit matching offers.
Each bookie has there own unique betting features and exclusive promotions which are only available on-line.
The number of betting markets available to cater for everyone's needs, whether that is sports, casino or slots.
If you are in a hurry to claim your sign-up bonus, you can click any of the quick links in the right hand side-bar to claim them instantly.
If you have the time, we would advise you to read our bookmaker reviews carefully. We have all the information you need to come to an informed decision. Use the ratings to decide which bookie is best for you, and make sure that you are aware of any terms and conditions before signing up.
If you have any comments about your experience with any of the bookmakers we review, we encourage you to share them with other users using the forms provided.