Best Bookies For Lucky 15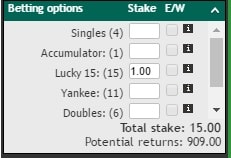 For some time, Lucky 15 has been a very popular bet with punters. This unique full coverage bet gives you an excellent opportunity to make a big profit from just four selections. In this article, we'll examine the best bookies for Lucky 15, so you know you're getting the best value.
We'll also explain how it works and how to calculate the returns. To illustrate this, we'll be showing you an example Lucky 15 at Paddy Power. So if you want to follow along with the example, you can open an account with them first by clicking below,
Bet On Lucky 15 At Paddy Power   
Once you've done that, we can now move on. Grab a coffee, sit back and we'll explain in detail how it all works.
How Does Lucky 15 Work?
To place a Lucky 15 bet, you need to make just 4 selections in different events. But instead of just putting them in a normal accumulator, Lucky 15 creates all possible permutations of the 4 selections you have made. So you end up with the following:
4 Single Bets
6 Doubles
4 Trebles
1 Four-Fold
This is a total of 15 bets, hence the name. So if you bet on a Lucky 15 at £1 per line, your bet costs £15. In the past, Lucky 15 was only a horse racing bet. But these days, due to its popularity, your selections can come from any events in any sport.
Example: How To Place A Lucky 15 Bet
You can actually place this type of bet at any of our recommended bookmakers. However, Paddy is definitely one of the best bookies for Lucky 15. If you're already familiar with online betting, you'll find this very easy. Because the good news is that placing a Lucky 15 is very similar to the way in which you place any other sort of bet. As we mentioned earlier, it's not just for horse racing. You can include football, tennis or any other bets you like.
Choosing Your Selections
All you need to do is choose 4 selections from different events. Then, just like any other bet, simply left click to add them to your betslip. In this example, we'll choose 4 football bets.
But we could also do exactly the same thing with horse racing. In this second example, we've chosen 4 horses and added them to a betslip in exactly the same way.
It doesn't matter whether you choose football, racing, tennis or any other sport. Or you could even choose a combination. As soon as you have 4 selections on your betslip, you will see a stake box for Lucky 15 appear.
Choosing Your Stake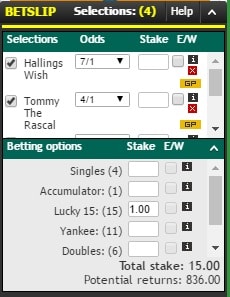 Here's what it looks like at Paddy Power. However, it will look similar at any of the best bookies for Lucky 15. All you need to do is type your stake into the box as shown in this example.
Remember, you are betting on 15 lines, so your total stake will be 15 x the amount you enter. To keep thing simple, here we've staked £1 per line, meaning the bet will cost us £15 in total.
The betslip shows that the total return if all 4 horses win is £836. Not bad!
But of course, the best thing about Lucky 15 is that you don't even need all your selections to win! You get a return if even one of them wins. So how do you work out your profits….
How To Work Out Lucky 15 Winnings
So as you now know, your Lucky 15 comprises 15 individual bets. These are made up of all possible permutations of your 4 selections. The amount of profit you make depends on how many of your selections win.
1 Selection Wins – You get a return on 1 single bet
2 Selections Win – You get a return on 2 single bets, plus 1 double
3 Selections Win – You get a return on 3 single bets, 3 doubles and 1 treble
All 4 Selections Win – Jackpot! You get the maximum return as all 15 lines pay out
Of course, the exact payout will depend on the odds of each individual winning selection. Most bookies offer a bonus of up to double the odds if only one of your selections come in. So depending on the odds, you may only need one selection to win in order to make a profit. Usually, if 2 or more come in, you're likely to get a great return.
Paddy Power offer a bet calculator to help you work out the exact returns. However, probably the best way is to try it out for yourself! You now know the best bookies for Lucky 15, and you know how to play. Now's a perfect time to see if you can land that first big winner….
Bet On Lucky 15 At Paddy Power