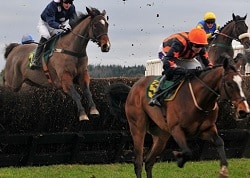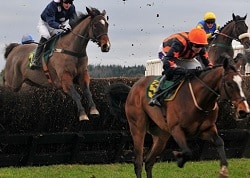 The 2018 Grand National is the biggest horse race in the world. It's the one day where even your granny comes out to have a bet. The whole country will be watching the race at Aintree.
But with so many bookies to choose from, where should you be placing your bets? We'll show you the best bookmakers for Grand National betting this year. So if you want bookies that offer free bets for the National, or bookies that pay extra places on the big race, then we have them all here.
Bookies Grand National Offers 2018
Bookie
Offer
Join

18+ Ts & Cs Apply. Click button for more details.

Paddy Power

2018 Grand National - Extra Places - Paying 6 Places Each Way
EW Terms: (1/5 Odds | 6 Places)

Join Now   
Many racing bookmakers withdraw their offers on Grand National day, because they know that most people will be betting anyway. But the sites listed above still have these great offers. Therefore, when you join any one of these sites, you'll be able to claim the offer. Using an offer means you are far more likely to win on the National this year.
Choosing The Best Bookmakers For 2018 National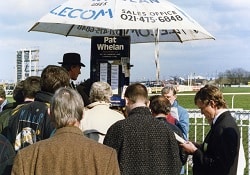 We know that many of you who are betting on the Grand National are not regular punters. Therefore you may not be familiar with online bookies, or how their offers work. We're here to help!
The first thing you need to know is that you've made the right choice already by looking online! If you try to place your Grand National bet at a high street bookmaker, or worse still a trackside bookmaker, they won't give you any special offers at all.
When you choose an online bookmaker, you get a choice of the special offers listed above. You also get better odds. Plus, you don't have the hassle of queuing up to place your bet, and the pressure of explaining to the cashier exactly what you want.
Betting online is fast, easy and stress free. You can pick your horse in the comfort and privacy of your own home.
Grand National Betting Offers Explained
So now you know what the 2018 offers are, let's explain how they work.
Extra Places – Because it's hard to pick the winner, many people like to bet each way on the National. That means you still get paid if your horse doesn't win, but it "places". Most bookmakers will pay 4 places. Therefore, if your horse comes 1st, 2nd, 3rd or 4th you would get paid.

However, some of the best bookies will pay 5 places or sometimes even 6 places. Therefore, if you bet at these bookies, you would also get paid if your horse came 5th or 6th. Obviously this is great news because it gives you a much better chance of winning. If you're betting each way, check which bookies are paying 5 or 6 places in the list above.

Free Bets – Many online bookies offer free bets when you open an account with them. However, often they do not offer them on National day, because of the number of people betting.

But some still do, and you can see a list of those on the right hand side of your screen (or at the bottom if you're viewing on a mobile). If you want a free bet, you can claim one by opening an account with any of these bookmakers.
So that's how the offers work. As you can see, you'll get a much better deal when you bet online. So all you need to do is choose the offer that works best for you from the list above. Then click the green button to visit the bookmaker site and claim it!
Thanks for reading our guide to the best bookmakers for Grand National betting. Everybody on the Which Bookie team wishes you the best of luck. Hopefully you'll pick the winner this year!