Are you considering opening an account with Betfred? Read our Betfred review first to see if they are worth joining. Then check out other people's reviews, or add your own…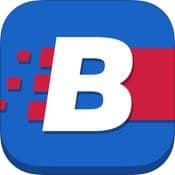 User Rating:

Betfred are one of the UK's best known bookmakers, with high street shops across the country. They are self proclaimed as The Bonus King, but that doesn't necessarily ring true for most customers. Reports of limited or closed accounts and poor customer service have been received from our users.
Betfred Bonus
New customers can claim a Bet £10 Get £60 offer, which sounds generous. We opened our Betfred account some years ago so we were unable to claim this ourselves. If you are purely interested in bonus hunting, and you don't intend to carry on betting afterwards, then this may still be worthwhile.
Are Betfred Any Good?
In theory Betfred are ok – IF you can keep your account open! They offer Irish Lottery, plus best odds guaranteed.
The problem is that Betfred are one of the worst bookmakers for closing customer's accounts. We'd heard this from several of our visitors in the past, and recently exactly the same thing happened to us. So these features are no good if you can't use them.
Betfred Service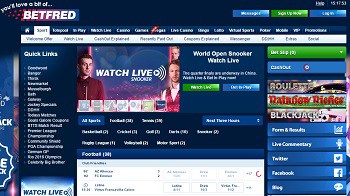 Customer service at Betfred isn't as strong as other online bookies. If you want to phone them, they have freephone numbers for UK and international customers. There is also e-mail and 24/7 live chat – but the quality of response on the live chat is poor. It's difficult to get a straight answer, which is very frustrating.
Betfred Markets
Betfred have all the most popular sports covered. They're particularly big on football, horse racing and snooker. In fact you might be aware that they sponsor the World Snooker Championships.
Betfred Payments
You can deposit and withdraw using all major credit and debit cards, just the same as with most major online bookmakers. Betfred are also one of the few bookies that accept PayPal, so if you can get them to accept your bets then that is a good option.
They also accept Neteller and Skrill, therefore you have a wide choice of methods to choose from. Withdrawal times are pretty standard, while deposits are usually instant. Betfred review some withdrawals to ensure that they pass the standard fraud prevention checks, and they can be unnecessarily picky at times. This can cause delays in receiving your winnings.
Summary: Not Recommended

We're not paricularly big fans of Betfred here at Which Bookie. Our own experience hasn't been great, and the user reviews seem to back that up. There are plenty of better options available if you check out the best bookmaker reviews, and as such we can't recommend Betfred.
---
Your Betfred Reviews
The following are genuine user reviews, which are written by real members of the Which Bookie community. So now you know what we think, you can see whether other people agreed. You can also leave your own review at the end. Here's how our visitors rated Betfred.
Any Excuse Not To Pay
★☆☆☆☆
"
Any excuse to withhold payment and these scammers will use it. We need you to send ID (for the second time). No thats the wrong ID we need some more. No we didn't receive it (lies, you did). Oh your account has been suspended now while we investigate. Oh we haven't bothered getting back to you or doing any investigation as its more fun to just ignore you. If that is the sort of service you thin k is ok then join Betfred. For me, I've reported them to UKGC and issued a chargeback. They are scum.
"
"
opened a new account so I could get free bets but they said that my ip address was already in use I have no previous account with them, they took my deposit and no free bets, all other bookies let me open accounts got free bets no problem, bet fred don't bother because if you hit the jackpot they will find some fault in your bet, scum bookies
"
"
Careful when placing football odds. Had two bets last week n found they had refunded the money to my account before games started. It turned out "they got the lines wrong". They may hide behind Ts and cs but that diesnt make it right. I use the app and it is rubbish. Difficult to get all in play games. As others have said customer service poor with a couldn't care less attitude. I will stick to 365 n sky bet!
"
Bookie do not tolerate winners
★☆☆☆☆
"
Betfred banned me after I had the audacity to win about £1,500. All bookmakers, particulary betfred will gladly accept your bets if you a regular loser. Win a few £100 and your account is toast. If you wanted to gamble, you are better off using one of the exchanges (the best one being smarkets) because the odds tend to be higher than most bookies. If the odds are higher in the bookies than the exchange, they will accuse you of arbing and will close your account very quickly. Also, trying to place inplay football bets on betfred's website is quite frustrating; the worst desktop website or mobile app out there.
"
Aargh!!!! Customer Service
★☆☆☆☆
"
Seriously the worst customer service I have ever experienced at any company of any type, ever!!! So frustrating, unable to get any help or answer from anyone. Betfred just do not care about customers at all. Save yourself the agony and go somewhere else.
"
Avoid Like The Plague!
★☆☆☆☆
"
Betfred are the worst online bookmaker by a long way. They will limit your account almost immediately if you have the temerity to win a bet. Their support is abysmal, an absolute joke. I can't imagine why anyone would bet with them. Thanks for giving me the opportunity to share this with others. if you are thinking of betting with these clowns then don't say I didn't warn you.
"
Excluded from Betfred in just 18 bets!
★☆☆☆☆
"
Like many of my friends I have been excluded from Betfred because I won to much over the last few months. This will happen if you are successful, Betfred have no interest in their sports book or the customers that use it, the majority of their money is made on FOBT's and emails will often try and tempt you into their casino arm. They do sponsor a few horse race meetings but this really is a smokescreen and all 'reputable' bookies do this for the publicity and pretense they take horse bets. If you are regular horse punter you will know that Betfred will not take sizeable bets, the abilities of their traders are confined to copying whatever the market is saying on Betfair. It is beyond me why they use traders, I am pretty sure I could write a software program to replicate what they do. I thought they may be more amenable to taking large bets on the EPL with the millions floating around on each game, but it only took 18 bets for me to be banned. alarmingly quick! So here is some advice for those who wish to take the matter further - use places like Trustpilot and the like, use social media, keep calling them out, create as much negative press as you can, remember a lot of the tabloids are paid a huge amount of money in advertising by these bookmakers so will rarely report too negatively on them. Betfred lies about the amount of people it bans, it says it is a tiny %, where as this includes casino only customers, and people they limit to a few pence per bet, the true figure for their sports arm is the highest in the industry, they simply do not tolerate anyone winning consistently, no matter how small that margin is. Ask for all of your personal information, they have to give you this by law. See Data Protection Act 1998. If any of it is wrong ask for all of your data to be deleted, this again is the law. Betfred use snooping software called iesnare or msnare, check your hard drive and if it is installed this will be from Betfred. Ask for all of the information they have recorded from your machine. The law here is difficult as they claim its for fraud. This is nonsense its to stop multiple account holders and should you access Betfair whilst betting with them, they will have a record of this, and will lead to a greater (or quicker) way of you been banned. However Betfred offer no T&C's that tell you they are going to download this aggressive software, so I would argue that it is therefore a breach of your privacy and thus illegal. The more that question this and tell IBAS or the GC the more likely it is Betfred will be forced to stop cheating you and stealing your personal information. This information records every website you visit and reports back to Betfred, it really is that simple and that invasive. Its hard to believe it, but feel free to google. Interestingly in NSW (Austrailia) they are forcing bookmakers to take bets up to $1000 and not cherry pick losers, an activity that is basically Betfred's commercial strategy. We can hope that one day the UK government forces bookmakers like Betfred to stop cherry picking and as the Australian government says, if your sole purpose of trading is for gambling then you have to accept bets (to a limit) from everyone, not just your small group of losing customers. If you want to bet unlimited bets then try and get an account with Pinnacle, they actually use professional traders and use professional punters to shape their books - not currently available to UK citizens, but if you work abroad or have family abroad you may be in luck. If you have an active Betfred account and use it, you either bet small sums, and please carry on, if you bet large sums and it is active then you are telling all your friends you are a loser! it really is that simple! Lastly never use the Betfred Casino, this just feeds their pockets, make them sort out their Sports arm first.
"
Leave Your Betfred Review