Betting Strategies for Horse Racing Part 1: The Martingale System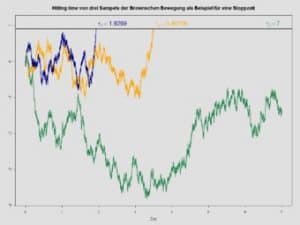 There are countless betting strategies for horse racing out there, all with a different method which the person who created them believes is successful. Each strategy or approach has its own merits, and the most important factor is whether it makes a long term profit.
However, there is more to it than that. Often a punter will choose a certain strategy, or dismiss another, simply because it does not fit with their personality and or their betting habits.
For example, if a horse racing system picks out horses that are 20/1 or bigger, a person who has spent their gambling life backing favourites or second favourites is likely to rubbish the system after a small sample of results, because it doesn't follow what they are used to. In the same way, people who are structured with their betting and back the same stakes every race will not like a system that increases the stakes each bet.
We all have our own methods that we are used to using, and finding a horse racing system that takes on board the same ideologies as your current methods will likely give you what you want. Therefore, the team of experts at Which Bookie have created a series of articles on horse racing strategies to help you find one that is right for you.
In the first part of this series, we are going to examine the Martingale Horse Racing betting strategy, who it would suit and how it works.
The Martingale System For Horse Racing
The way this plan works will suit people who like to back favourites and also people who do not mind varying their stakes. Those who look beyond the favourite in a race, and those who like to keep their stakes the same may find this system either hard to use, or they may struggle to use it at all as it is very different to what they would normally do.
The Martingale plan actually originates from the roulette table and has been adapted to cover horse racing. Players on the roulette table who bet on red or black used this system to increase their staking amounts after every bet, knowing a win would eventually cover their losses.
The original people behind this idea believed that because you had a 50% chance of winning by choosing either red or black (which actually you don't) then the probability is that if you lose, your next spin will be a winner. Again this isn't true and after later proof showing it is possible to spin multiple blacks in a row, they tempered their expectations of the system.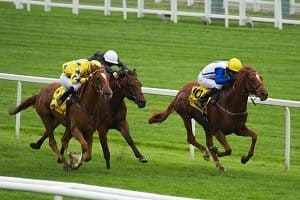 The plan used for betting at a horse racing bookie is pretty much the same as the roulette plan, with a couple of differences to adapt it to sports betting. Firstly, in horse racing you very rarely have a 50/50 chance of winning a race, therefore when it comes to horse racing the risks are higher.
However, the benefit of horse racing is that the rewards are often greater, giving you a pay out of bigger than even money. With those two alterations in mind, this plan can only be applied to horse racing if you are confident you will pick winners out consistently, otherwise, your betting bank will quickly disappear.
Despite having a variable staking plan, the Martingale plan is very easy to follow, especially if you have used a variable staking plan in the past. To start the plan, you place a bet with a small stake, the best starting point would be to play 1% of your betting bank. If the bet wins, then great, place your next bet at the same stake, because after every winner on this plan, you revert back to your original starting point, which is 1% of your betting bank. In the below table we have used a 1% starting stake and a betting bank of £100 so the first bet would be £1.
However, should your first bet lose then you need to double your stake on the next horse. You continue to double after every loser, either until you reach the maximum bet size left, your back a winner or you run out of money! As soon as you back a winner, revert back to the starting bet of 1% of your starting bank.
The example below shows how this would work, using a betting bank of £100 and a starting bet of 1% of that.
| | | | |
| --- | --- | --- | --- |
| Selection | Stake | Finished | Balance |
| Horse #1 | £1 | lost | £99.00 |
| Horse #2 | £2 | lost | £97.00 |
| Horse #3 | £4 | WON @ 2/1 | £105.00 |
| Horse #4 | £1 | lost | £104.00 |
| Horse #5 | £2 | lost | £102.00 |
| Horse #6 | £4 | lost | £98.00 |
| Horse #7 | £8 | lost | £90.00 |
| Horse #8 | £16 | lost | £74.00 |
| Horse #9 | £20.00 | WON @ 3/1 | £134.00 |
| Horse #10 | £1 | lost | £133.00 |
| Horse #11 | £2 | lost | £131.00 |
| Horse #12 | £4 | WON @ 6/4 | £137.00 |
Advantages
The Martingale staking plan has many advantages for those who are looking into using it. The obvious one is that it is very simple to understand and newcomers will be able to quickly pick it up. The initial stakes are small, which always gives people the confidence to try something new. Having something new to try, but needing to stake £20 on your first bet is often a huge factor in turning people away.
Another advantage to this plan is that when you do back a winner, you will always have your highest stakes on them during that sequence. Backing a winner after two losers means that your highest staking bet out of those three will always be on the winning horse. If the series of winners you have is long, when you do find a winner, because your stake is so high you know that you will always recover your losses previously, plus some extra on top.
Furthermore, you're not just limited to actual racing. Since this is a staking plan and not a election method, it can be applied to virtual racing just as easily as the real thing.
Disadvantages
There are also disadvantages to this staking plan, which relate to streaks, either a winning streak or a losing streak. If you have a good winning streak where you pick five winners in a row then you will only have minimum stakes on the last four out of those five winners, due to the way this system works.
That means the winners are coming in nicely, but your profit is minimal because of your staking plan. Problems occur with a long losing streak too. Should you hit one of these, your betting bank can be wiped out in just a few bets because the stakes increase so quickly using this system.
When the stakes start to rise, you might also find issues with some bookmakers limiting your bets, meaning you are unable to continue. This can be overcome by using a betting exchange, since they never limit your stakes.
In Summary
To summarise the Martingale plan, it is very simple to use, but needs a strong will and a large bank. It is basically a way to increase stakes after losing selections to make sure when you do back a winner, you will win back all your losses, plus some more on top. However, the staking plan does not work well when you have a long winning streak as your stakes are small. Also when you hit a losing streak, it can wipe out your betting bank quickly.
If you're uncomfortable with large bets, or if your selection method cannot be relied upon to produce regular winners, then we would not recommend that you use this method. But don't worry, there are plenty of alternatives! Check out the other articles in this series for more ideas on finding a horse racing betting strategy that works for you.