Betting Strategies for Horse Racing Part 2: Kelly Criterion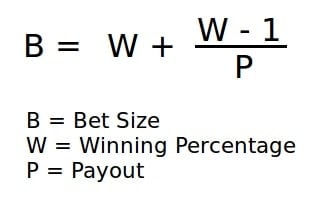 With so many different betting strategies for horse racing out there, you have a wealth of different systems to read about, try and potentially use.
With so much choice, it is easy to find one that is already similar to what you currently do with your betting. This saves making huge changes or looking at systems that you will quickly dismiss because they are completely different to what you are used to.
As well as being profitable, a betting system must suit the personality of the user. If you like to win small amounts regularly, you need a selection method that picks out shorter priced runners. However, if you're happy to wait longer for big wins, you need a method that picks horses at bigger prices. With plenty of options, take your time and find one that will suit you.
In part two of our series on horse racing betting strategies, we are going to examine the Kelly Criterion. We'll look at how it works, and what type of person it would suit.
The Kelly Criterion For Horse Racing
There are many different staking systems out there that are complex and offer a way to work out how much to bet and when to place a bet. Probably the best known of this type of staking plan is the Kelly Criterion. Like the Martingale, this is a staking system, not a selection method. It doesn't tell you which horses to bet on, but it does show you how much to bet on each horse in order to make the maximum profit over time.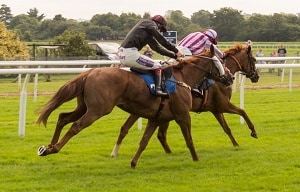 The plan was developed by John Kelly, who it is named after. It involves using a complex equation to work out the probability of an outcome winning and the calculation of how much money you would win. This determines whether the bet is worth placing, and how much to place.
The staking plan was originally designed for betting on horse racing and is predominantly used for that purpose, unlike some other staking plans. This plan has moved onto other things though, and people have modified the plan to make it eligible for use by investors who want to manage their portfolios.
The Kelly Criterion is designed for value betting systems. In order to use it, your selection process must be able to identify the expected probability of your horse winning. The formula compares that probability with the odds available, and adjusts the stake accordingly for maximum profitability.
The basic calculation is as follows>:
Kelly % = W-[(1-W)/R]
Where:
W = Winning probability
R = Win/loss ratio
The output is the Kelly percentage
How to use the criterion
You can take a look at Kelly's system by using your records, they will help you determine values and give you a platform to work with going forward. The first thing you need to do is take a look at the last 50 bets you have placed. This will show you whether or not it is better than a level staking system and how it fits with your current method of selecting horses.
The numbers you are looking for are to be used in place of "W" and "R" in the above calculation. Your "W" or winning probability is your general strike rate over the past 50 bets. If you have had 10 winners from your last 50 selections, then your current strike rate is 20%. The "R" in the calculation is your ROI or return on investment. This is your profit over the total period, divided by the total amount stakes. Then you multiply it by 100 to give you a positive percentage figure.
Input these numbers into Kelly's equation: K% = W-[(1-W)/R].
Record the Kelly percentage that the equation returns.
The percentage you have represents a portion of your bank that you should stake. So for example, if the Kelly percentage is 0.10 then you should be looking to stage a 10% portion of your bank on that selection.
Make sure you use this in a sensible manner though. One thing to consider is that regardless of what percentage Kelly may work out for you, commit no more than a total percentage of your bank that you are happy to risk in one bet. Some people may limit themselves to 20% of their bank, and if you do that then always stick to this, regardless of the Kelly percentage you are given.
If you believe that you are always getting value in your bets, and you are backing a selection at bigger odds than the probability of it winning, in the long term Kelly will help you make more profit than you currently are doing. However, if your judgement on value is not as good, then it will not help you. This system is designed to manage staking, not choose the selections for you.
Kelly Criterion will help you manage your bank in a way that many people believe to be efficient. This is to maximise profits and minimise losses. If you can do that then you are well on your way to making a success.
Advantages
The Kelly Criterion system has many advantages for those who choose to use it. If you are a very good judge of probability and you often back value bets then you will find this system very useful. It will certainly help you make more profit from your gambling.
The system works with your betting bank, using percentages to gauge when the right moment is to stake a larger amount than normal.
Because the method assigns stakes based upon your own selection criteria, your bets won't follow a pattern that will be recognisable by anyone else. Therefore, if you bet with a good online bookie, you're highly unlikely to have any problems with them limiting your stakes.
Disadvantages
The one obvious disadvantage of the Kelly Criterion system is that it is a very complicated system that takes a lot of getting used to. This is not ideal for newcomers, those who want to try new things or simply those looking for help.
It doesn't help you read form or pick winners. So you'll need to have a value betting method in place already in order to use Kelly.
The complex method it uses to calculate how much money to stake on a selection takes time to work out. Therefore, many people who have tried this system simply give up after it proves to be too difficult for them to keep up with.
Summary
To summarise the Kelly Criterion staking plan would be to say that it is a very complicated staking plan that will work for some people, but not for others. Those who are prepared to take time and work out the correct percentages to use this system will see a benefit in their profits. But it is only useful if you are capable of picking value bets. Those that can pick value bets and are happy to take the time to work out this staking system will really reap the rewards from it.