Which Bookies Have Virtual Horse Racing?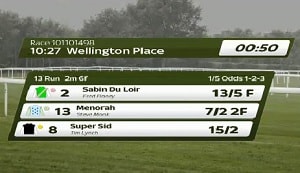 Virtual horse racing (or VHR) is the new craze that's sweeping through the online betting world. If you haven't tried it yet then you have a lot to look forward to!
We'll explain how it works a little later, but first let's look at where you can play. There are several bookies that offer virtual horse racing at the moment. Some are very good, others still have a lot of catching up to do! So how do you know which one is best? As usual, we're here to help. Read on to find out everything you need to know…
Best Bookie For Virtual Horse Racing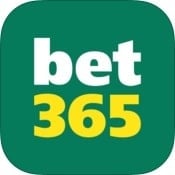 We recommend bet365 as the best place to bet on virtual races. They have races every minute, at a variety of different tracks. So you're never sitting around bored, waiting around for something to happen. The action is non stop!
The graphics are incredibly realistic. In fact we tried showing a race to a selection of punters and half of them thought it was a real live race. You can also use the bet365 welcome bonus when betting on the VHR, which gives you an opportunity to boost your account balance.
We strongly recommend you give bet365 a try and see if you can bag a winner. The races may be virtual but the profits are very real. If you're new to VHR, this should definitely be the first site you try.
List Of Bookies That Offer Virtual Racing
There are other good options when it comes to choosing a bookmaker for virtual sports. Some of the offers available are very different to the best horse racing bookies, so you need to make sure you choose accordingly.
Bookie
Offer
Join

18+ Ts & Cs Apply. Click button for more details.

bet

365

Virtual Horse Racing - Races off every minute

Join Now   

Betfair

Virtual Horse Racing - Races every 3 minutes

Join Now   

Paddy Power

Virtual Horse Racing - Races every 3 minutes

Join Now   

come

on!

Virtual Horse Racing - Races every 3 minutes

Join Now   
Each betting site has its own particular features which appeal to different people. For example, bet365 have more races. But Paddy Power has a cool feature where you can build your own racecard. The best virtual betting sites are listed above, take a look and see which one you prefer. With new customer bonuses available at each site, there's no reason why you shouldn't try them all and make up your own mind.
How Does Virtual Horse Racing Work?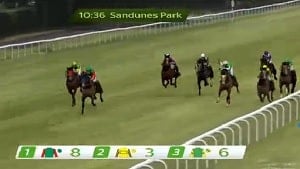 In many ways, VHR works just like real racing. You choose your horse, and you can bet in all the normal ways – to win, each way, forecasts and tricasts. The difference is that the race is computer generated. But as we mentioned before, the winnings are real.
One big advantage is that VHR runs 24/7 so you can play at any time you like. You have the opportunity to study the form of each runner in the race, so you can soon see whether it has any bearing on the result. The odds are displayed in a racecard just as they would be with a real life horse race. Just place your bet and settle back to watch the action.
Is Virtual Racing Realistic?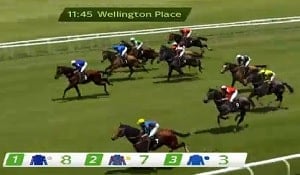 It depends on the bookmaker – some bookies offer a more realistic looking product than others. The sites we recommended above all have very realistic graphics and it can be very hard at a glace to tell a virtual race from a real one. You can also choose to have sound with commentary, which definitely adds to the experience.
The best sites such as bet365 also have a choice of flat, sprint or jump tracks which adds plenty of variety. In our opinion it's basically great fun and in terms of realism, it's the next best thing to actually being at the race track.
Is Virtual Racing Fair?
As long as you bet with one of the bookmakers we recommend, then we can categorically state that yes, virtual sports are fair. The results are based on a random number generator similar to the one used by online casinos. That doesn't mean that the results are completely random – the form of the horses is a factor, and favourites will still win more often. What it does mean is that the results are fair and they are certified by the gaming commission that regulates the bookmaker.
If you're ready to give virtual horse racing a try, simply click the green button below to get started…
Join bet365 Now   
New Welcome Bonus For New Customers
18+ Ts & Cs Apply. Click link to see full details and Terms & Conditions relating to the brand new bet365 welcome bonus. 18+ New customers only.