What Is Handicapping In Horse Racing?
In UK & Irish horse racing, around 6 out of every 10 races are handicaps. But what exactly does this mean, and how does it work? Who are the handicappers, and what exactly do they do?
If you're betting on horse racing, you need to understand how weights are allocated and how they affect the races. So read on and we'll answer all these questions and more.
What Is A Handicap Race?
The idea behind handicap racing is to give all horses an equal chance of winning. They do this by giving each horse a certain amount of extra weight to carry. The additional weight is allocated according to the horse's official rating (often shortened to OR).
The best horses carry more weight, and the weaker horses carry less. Therefore, the theory is that this compensates for the difference in ability, and makes for an even contest.
Who Are The Handicappers?
In the UK, the official ratings are provided by a team of handicappers at the British Horseracing Authority. Each week they publish an updated rating for each horse, based upon their study of form and results.
What Does Weight Mean In Horse Racing?
A horse's official rating determines how much weight it will carry in a handicap. For example, if one horse is rated at 92 and another is rated at 100, this means the higher rated horse would have to carry an extra 8lbs.
Good horse racing bookmakers will display the weight being carried by each horse on the racecard. Therefore, it's relatively easy for you to compare the weights of each of the runners. The following example shows a racecard at Racebets. You can see all sorts of information about each horse, including the recent form, age, weight and current odds.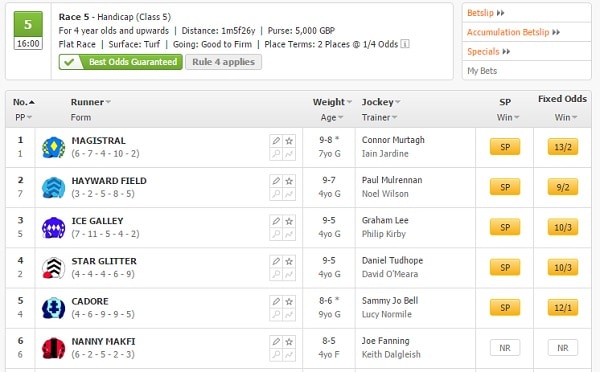 There is also information about the race itself, including class, distance and going. Refer to our guide to horse racing terminology for a full explanation of what each of these terms mean.
How To Bet On Handicaps
The key to betting on handicaps is to try to establish which horses are "ahead of the handicapper." This means that they are thought to be better than their official rating, and therefore they will be able to cope with whatever weight they are carrying.
When evaluating the race, you may want to look at how much weight a horse has carried in the past. If its weight has been increased, it may struggle to match its past performances. However, if its weight has been reduced, it may run better than it has before.
You should also be aware that apprentice jockeys are given a special allowance, which can reduce the amount of weight that their horse has to carry. The idea is that this reduction (known as a claim) makes up for the fact that they are less experienced in the saddle. However, inexperienced jockeys can still be very competent. Therefore, if you have a good horse being ridden by a capable apprentice jockey, the weight reduction can be a big advantage.
Some of the better bookmakers will include a race preview at the bottom of the racecard. This is usually written by a racing expert who will give his opinions regarding which horses have been well or badly treated by the handicappers. This is often a useful guide when it comes to evaluating this type of race.