Horse Racing Terminology: What You Should Know Before Betting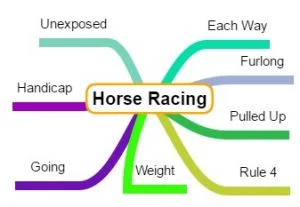 It's the oldest sport in terms of betting, and still one of the most popular. But there's no doubt that horse racing has a language all of its own.
To enthusiasts, most horse racing terminology is second nature. But for newcomers, some of the jargon can sometimes be quite confusing. If you've ever read a racing paper, or watched it on TV, you'll know exactly what we mean.
We understand that before you start to bet at one of the recommended horse racing bookies, you'll want to know what all the language means. So we decided to produce this guide to explain what you should know about horse racing before you place your first bet.
Horse Racing Terminology Explained
So let's take a look at the most commonly used horse racing terms, and explain what each one means.
What does Going mean?
The going refers to the state of the ground. For turf racing, the going can range from heavy (very wet, likely to slow the horses down) to firm (very hard and unyielding). Racetracks are required to report the going at the start of the day. Be aware that it can change throughout the day, especially if there is heavy rainfall.
The going is very important and it can have a significant effect on the outcome of the race. Different horses are suited to different types of ground, and some may perform much better or worse than normal depending on the conditions.
By checking a horse's form, you can see how it performed in the past on different types of ground. This can help you to determine how well it will run in a particular race.
What is Quick Ground?
It's another way of saying that the going is firm, or good to firm. Soft and heavy ground is slower, firmer ground is quicker. Imagine if you were running on grass, you would expect to run faster if the ground was dry and firm than if it was wet and muddy. The same applies to horses.
What is a furlong?
A furlong is a measure of distance, approximately equal to 1/8 of a mile, or 200 metres. All Uk & Irish races are measured in miles and furlongs. The shortest sprint distance is generally 5f which is approximately 1km. The longer races can be in excess of 3.5 miles.
What does WD mean?
WD stands for Withdrawn, it means the horse was removed from the race before it began. This is usually a decision taken by the trainer.
What does UR mean?
UR stands for Unseated Rider. You would see this when looking at race results, or a horse's past form. Basically, the horse did not finish the race because at some point the jockey fell off. This could be due to an error made by the horse or jockey, or it could be simply down to bad luck.
What does Pulled Up mean?
In horse racing terminology, pulled up means that a horse stopped running part way through the race and did not finish. Usually, this is because the jockey chose to stop the horse. This may be because they felt it had no chance of winning, or because the horse developed a problem or an injury.
What does Unexposed mean in horse racing?
"Unexposed" is a phrase commonly used by tipsters or in race previews. It means that the horse has had relatively few runs at its current class, so nobody really knows how good it is. Generally, this means that the horse has plenty of room for improvement in terms of its form, so it has the potential to do better than it has in the past.
What does 1st Up mean?
The first run that a horse is having in the current season, or the first time a horse has run after an extended break.
What does Up In Trip mean?
In horse racing terminology, the phrase "up in trip" means that a horse is running in a longer race than it has done previously. You should consider whether you feel that it has the stamina to compete over a longer distance. However, it may actually do better than it has previously if the trainer feels it is more suited to a longer race.
What does Under Rules mean?
Any flat or National Hunt race in the UK, which is governed and regulated by the British Horse Racing Authority, is referred to as being run "Under Rules." So the phrase basically means any professional race, but does not include amateur "point to point" races.
What does Show mean in horse racing?
This is a term that you normally only hear in US horse racing. In the US, when you bet on a horse to place, it means it can finish 1st or 2nd. When you bet to Show, it can finish 1st, 2nd or 3rd.
In the UK, place betting works differently, because the number of places that a bookie pays out is different depending on how many runners in the race. Also, some bookies pay out on extra places on certain events. Because of this, we don't tend to use the "Show" bet in UK & Irish racing.
What do Nap and NB mean?
These are terms used by horse racing tipsters, although they could also be used by tipsters in other sports as well. A nap is a tipster's best bet of the day. NB stands for Next Best, so this would be their second best tip of the day, after the nap.
What are Jollies and Rags?
These are slang words used in horse racing betting. A jolly is a favourite that is well fancied by the punters. A rag is an outsider that nobody thinks will win.
What is Rule 4 in horse racing?
Rule 4 applies to horse racing betting markets. It covers what happens to the odds of your bet if a horse is withdrawn from the race after your bet is placed.
The idea is that if a horse is withdrawn, it means that the runner you bet on now has a greater chance of winning the race than it did before, since there are fewer opponents for it to beat. That means that the odds of your bet will automatically be reduced.
This is sometimes known as the Reduction Factor. It is determined by the odds of the horse that was withdrawn. You don't need to worry about working this out yourself though. Your bookmaker does this automatically, and awards the correct winnings to your account.
You can find full details about the intricacies of Rule 4 by reading the Tattersalls Rules Of Racing pdf.
What is a Listed Race?
In UK racing, the races are split into various classes. The higher the class, the better the standard of horses competing, and the bigger prize money on offer.
The highest class of races are known as Group races. They are Group 1, Group 2 and Group 3, with 1 being the absolute best.
Listed races are just below group class. So essentially, they're the 4th highest quality races in the UK. That means they are quite prestigious, and they will attract very good horses and decent prize money. It also means they're likely to attract a lot more interest on the betting markets than a lower grade of race.
What is the Triple Crown?
In UK horse racing, the Triple Crown consists of three of the biggest races of the year. These are the 2000 Guineas, the Epsom Derby and the St Leger. To win the Triple Crown, a horse has to win all three of these races in a single season.
As you might imagine, this is incredibly difficult to achieve. In fact it has only happened 15 times in history. The last horse to do so was Nijinsky in 1970.
See the full list of UK Triple Crown Champions here.
Did We Answer Your Question?
We hope that you've found this guide useful and that we answered your question. If we did, maybe you're ready to place your first racing bet, so you should check out our list of the top rated online bookmakers. If not, your feedback can help us improve this page.
Is there any horse racing terminology you'd like us to explain that we haven't covered here? Please contact us and let us know. We're always updating this glossary of terms and we would be delighted to include your suggestions and answer any questions that you have.
If you find this guide useful, please consider linking to us from your own blog or website, or sharing this page with your friends.