Read our Ladbrokes review, then check out other users' reviews or add your own…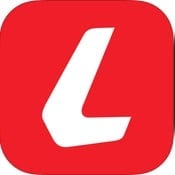 Our Rating: Recommended
Welcome Bonus: £50 Free Bet
Ladbrokes are a well known high street bookmaker in the UK, with a name that has been synonymous with sports betting for many years. They're a brand that everybody knows and trusts, which is why they have grown into one of the biggest names in online betting.
Join Ladbrokes Now   
Ladbrokes Bonus
New customers can claim a £50 Free Bet offer, which always proves very popular. Ladbrokes do ask for a promo code (currently F50) but when you open your account at this page the code is entered for you automatically. This means it's impossible to forget to enter the code, or get it wrong.
Ladbrokes Features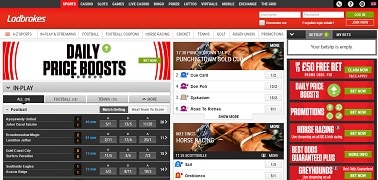 Ladbrokes offer free live streaming on UK & Irish horse racing, plus selected football, tennis and greyhound racing.
There are several other good features as well, including daily price boosts, best odds guaranteed and money back on accumulators. Their website is well designed and easy to use. So whatever you're looking for, you can find it fast. You can also download their free mobile app, making it easy to place your bet wherever you are.
Ladbrokes Service
Ladbrokes offer a free phone help service to both UK and International customers. There is also a live chat option, and a self service help facility which contains the answers to many frequently asked questions. The standard of their support is usually pretty good. It's quite rare that you need to use it, as everything normally works fine.
Ladbrokes Markets
If you've ever placed a bet in a Ladbrokes shop before, you'll know they offer a huge range of markets on just about every sport you can think of. Their online service goes even further. Not only can you place any bet quicker and easier than you could in the shop, you also get better odds online. Ladbrokes review their odds regularly to make sure they are competitive.
Ladbrokes Payments
Ladbrokes offer a choice of payment methods. As usual, all major credit and debit cards can be used. They also offer deposits and withdrawals via PayPal. You can check out their FAQ page for a list of banking options. Ladbrokes review withdrawal requests to ensure they are genuine. However even with this check in place, you can still normally get PayPal, Skrill and Neteller withdrawals in your account in less than 6 hours.
Summary: Recommended

Ladbrokes are a well known, reputable and trusted bookie that have been around for years. Their generous £50 Free Bet offer is the perfect way to get started. The range of features and offers for existing customers is impressive, as is their range of markets. Overall, they give a good all round service. Recommended.
Join Ladbrokes Now   
£50 Free Bet For All New Customers
---
Your Ladbrokes Reviews
The following are genuine reviews written by real members of the Which Bookie community. So now you know what we think, you can see whether other people agreed. Here's how you rated Ladbrokes.
Ladbrokes Always Reliable
★★★★☆
"
Not sure why some people are harsh on Laddies especially when some complaints are based on bets placed in a shop. The online business is a totally different part of the company folks!! And I have never had any issues with them at all. You do not stay in business all this time if you're not a decent bookie.
"
"
always been a loyal customer of Ladbrokes (online only as I do not bet in the shops) and they have been good for me. Have had quite a lot of free bets off them in the past and always pay out my winnings. also the helpdesk was good when I had a problem with my credit card.
"
not perfect but good
★★★★☆
"
use the Ladbrooks app quite often and it normally works good. you get the same odds as in shop but bet from anywhere. plus free bet when you join which is £50 free you can never get that in the shops. they could offer more promotions for example weekly free bets. but the promo they do have is ok.
"
"
Ladbrokes are not the best choice. They are ok but I think you can get better odds and better offers at some other online bookies.
"
"
Go into a Ladbrooks shop and the odds are worse on the high street. Go to there website and its the same. My advice is go sumwhere else cos these are con men
"
"
Never been in a Ladbrokes shop as I do all my betting on mobile. Ladbrokes app has been good for me. Always honour my bets and always pay out so no complaints
"
"
I walked into Ladbrooks and asked the rep for odds on a bet, he rang the trader up, the trader quoted 8/1, the rep wrote 8/1 on the slip and now they are saying they can only pay out 3/1 as it was human error and that its in there T&Cs.... What T&Cs??? No one presented anything to me verbally or written!!! Absolute joke!!! Dont use them, they are thieves
"
Better Alternatives
★★★☆☆
"
Ladbrokes are ok but not great. I have an account at most online bookies and there are better choices than Ladbrokes. There is nothing they do that others don't do better. It is worth having an account for the free bet but I do not use them regularly.
"
Leave Your Ladbrokes Review