How To Make A Complaint Against A Bookmaker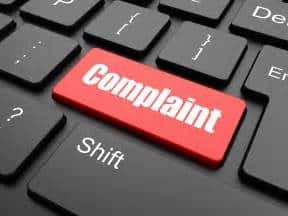 Any online bookmaker who operates in the UK has to be licensed and regulated by the UK Gambling Commission. That means that they should, in theory, all play by the rules.
But unfortunately, we all know that this isn't always the case. Our bookie reviews show that some companies do a much better job than others of looking after their customers. So what happens when you don't get the standard of service you expect? How do you lodge a complaint against a bookmaker, and what are your rights? We've put together this quick guide to help you understand what to do.
What Can You Complain About?
You can complain about a range of different issues. These include:
Your bet has been settled incorrectly. For example, you feel your bet should have won but it has been settled as a loser.
The amount you have been paid out is incorrect.
The bookmaker's terms and conditions are unfair, or have not been followed.
A free bet or bonus was not awarded, or the advert was misleading.
Your account has been closed.
Your bet has been voided.
You feel that the customer service you received was inadequate.
These are examples of common complaints that customers might have against a bookmaker, but it is not exhaustive. There may be other issues that are not listed above. In this case you would also follow the procedure outlined below.
How To Make A Complaint
You need to demonstrate that you have made a reasonable effort to resolve your dispute directly, before you can involve the regulators. Therefore, your first step is to contact the bookmaker themselves.
Every bookie's website should have details of their complaints procedure, as well as the contact details to use. You can also find further guidance on the UKGC website.
Make sure you send any evidence to support your complaint. This might include screenshots, copies of e-mails or live chat transcripts, or bank transactions. Send as much detail as you can, and be as clear as possible about what went wrong and what your expectations are.
The bookmaker must follow their internal complaints procedure and notify you of the outcome.
What If You're Not Happy With The Outcome
If the bookie does not resolve your complaint to your satisfaction, you can do something about it. You have the option to escalate the issue to what is known as an Alternative Dispute Resolution (or ADR) body. The ADR is independent of the bookmaker, so they may look at your complaint more objectively. You can find more details on this procedure here.
An ADR is accountable to the Gambling Commission, so you can be confident that they will be fair and objective. It's free to use, and they will get back to you with a verdict within 90 days.
If you still don't get a result that you are happy with, you have the option to use an independent dispute resolution service such as resolver.co.uk. This is also free to use. However, we would recommend that you follow the steps that we already described first.
Remember that there are some very good online bookies out there, but when things do go wrong you don't have to suffer in silence. As you can see, there are several options available to help you resolve your complaint against a bookmaker. If you have a legitimate grievance, chances are you will get a satisfactory outcome by following this procedure.
If you found this article helpful, please consider sharing it by using the buttons below.