Trump Would Win Again Say Paddy Power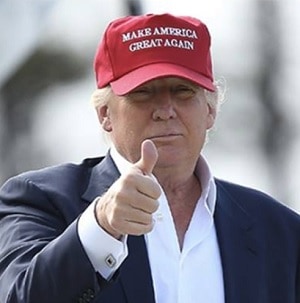 It's now a year since Donald Trump upset the odds and caused one of the biggest political betting shocks in history. It's been an interesting year to put it mildly, with the new president seemingly falling out with someone new every other day. So the question is, if another election was held now, would he still win?
Based on the controversy Trump has caused, most people would probably assume he'd stand no chance. He also has the lowest approval rating of any president at this stage, ever. So surely he'd never get elected again now that everyone knows what a mess he's making of things, right?
Trump Would Still Beat Clinton
But according to several respected analysts, that isn't actually the case. An article on BBC news suggests that most of the experts surveyed believed that Trump would still beat Clinton if another election was held one year on.
That's certainly the opinion of leading bookmakers including Paddy Power. After Paddy famously lost $4.5 million by paying out early on Clinton to win, they actually created a new role called "Head of Trump Betting" to make sure they don't make the same mistake again.
That man is Joe Lee, and when asked who he'd bet on today, he says:
Oh, I'd absolutely go with Trump. No question or doubt about it. It's all down to the calibre of candidate the Democrats roll out.
So the Democrats clearly need to choose their next candidate more carefully. Many of the experts feel that someone like Joe Biden would beat Trump, but that Hillary would still lose.
Odds On Trump To Be Impeached
But that's assuming Trump even manages to complete his term and stand at the next election. That is by no means certain. In fact, Paddy Power are offering odds of just 5/4 that Trump will be impeached.
When you consider the ongoing investigations about Russian involvement in the election, that's probably a solid bet. Watch this space…