What Is An Each Way Bet?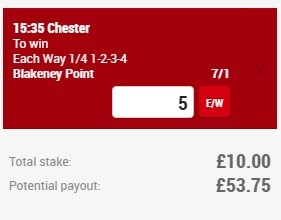 Here at Which Bookie, our aim is to make online betting simple, fun and profitable for everyone. That's why we provide a range of guides and tutorials for beginners all the way to experienced punters. Today, we're going to look at each way betting.
So what exactly is an each way bet? What sports can you use them on? How do they work, how much do you have to stake, and what are the returns? We'll explain everything, using some real life examples. So grab a coffee, make yourself comfortable, and let's get started…
What Does Each Way Mean?
An each way bet is traditionally used in horse racing, but it can also be used in greyhound racing, football, golf or tennis. We'll look at how it works with these sports in more detail later.
When you bet each way, your stake is split into two equal parts and you are actually placing two separate bets. This happens automatically when you tick "E/W" on your betslip. One half of your stake is used to back your selection to win. The other half is used to back your selection to place.
If your selection wins, then both of these bets also win, meaning you get the maximum possible return. If your selection places, then the win part of your bet loses, but the place part wins. Depending on the odds, this means that you can potentially still make a decent profit even if your selection isn't actually the winner.
How To Place An Each Way Bet
So how do you actually place an each way bet? Let's look at an example. In this case, we're betting on a horse race at 32Red Sport, as they normally have pretty good each way terms. However, the process would be very similar at any of the other top online bookies.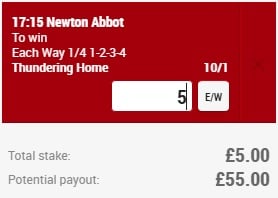 We've picked a race at Newton Abbot and decided to back a horse called Thundering Home. In this case, there's no particular reason for choosing this horse other than the fact that, with a name like that, we're expecting it to win!
As usual, you just need to click on the selection to add it to the betslip, and then enter your stake. This shows that the odds on the horse to win are 10/1 and that a £5 stake would return £55.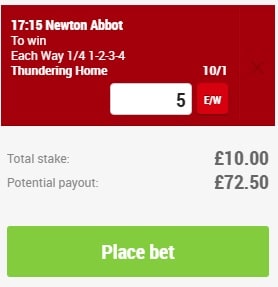 However, in this case we don't just want to back it to win, we want to bet each way. So to do this you would just need to click the E/W button on the betslip. When you do that, you'll notice that the total stake has changed to £10, because remember that when we bet each way we are actually making two bets.
The potential payout has also changed, but this hasn't doubled like the stake has. In fact it only increased from £55 to £72.50. Now let's take a look at how they work this out.
How Much Does It Pay Out?
So now you know how they work, but how do you calculate the returns on an each way bet? Let's return to the example above and break it down.
Remember that we have £5 on Thundering Home to win, and £5 on it to place. The win part of the bet is always paid out as normal. As you saw in the first betslip, the £5 win bet at 10/1 would return £55.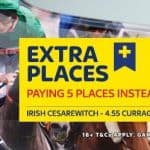 The return on the place bet depends on the bookie's place terms for this race. These can vary quite a lot, depending on how many horses are in the race, and also depending on the bookie themselves. Some bookies pay extra places on certain events, which gives you a better chance of winning.
The place terms are always displayed on the betslip. Look again at the above example and you can see that it says:
Each Way 1/4 1-2-3-4
That means that the bookie is paying 1/4 odds if the horse finishes anywhere in the first 4 places. The win odds are 10/1 so the place odds would be 1/4 of that, which is 2.5/1 (or 5/2 as it would normally be displayed). Therefore the place bet of £5 at 5/2 would return £17.50.
Overall then, if Thundering Home lives up to his name and wins, then both parts of the each way bet will win. The return would be £55 + £17.50 = £72.50.
If he finishes 2nd, 3rd or 4th then only the place bet would win, which means the £10 stake would return £17.50. So we'd still make a profit even if we didn't quite call the race correctly.
Betting Each Way On Other Sports
We've already looked at horse racing in detail, and greyhound racing works in exactly the same way. It's pretty obvious when you're betting on the winner of a race, but what about other sports?
Golf
Golf betting on outright markets is an ideal opportunity. You can bet each way on the winner of a golf tournament. Therefore, you'd still get a return if your player comes in the top 5, 6 or 7 places on the final leaderboard.
Football
In the same way, with any decent football bookie you can bet each way on a team to win the league. If they don't win, but still finish in the top 4 or 5, you'd get a return on your bet.
Tennis
You could back a player to win a tournament each way, and still get a return on your bet if they at least reached the semi finals. Again, any good tennis bookmaker will have an option for this type of bet.
Did We Answer Your Question?
We hope that you have found this tutorial useful. If you did, please consider linking to us from your own blog or website, or sharing this page with your friends and followers. If you have any suggestions of how we can improve this guide, or if there's any other subject you'd like us to cover, please let us know. We'd be glad to hear your feedback.