Which Bookies Do Scoop6?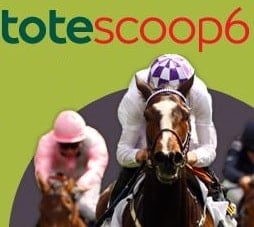 Scoop6 has always been one of the most popular horse racing bets on a Saturday. It can make you a millionaire! For jut a £2 stake, you have the chance to win up to £15 million, just by picking 6 winners. And the great news is, you can now place your bets online. But which bookies do Scoop6, and how do you play? This guide will explain it all.
First we'll look at where to play Scoop6 online. Then we'll explain how to play, how the prizes are allocated, and how much you can win…
Which Bookies Do Scoop6 Online?
If you already know how to play, here's a full list of bookies where you can place your Scoop6 bets online:
Bookie
Offer
Join

Sun

BETS

Play Scoop 6 on Saturdays - Win up to £15 Million

Join Now   
What is Scoop6 And How Much Can You Win?
The Scoop6 is a totepool bet which runs each Saturday on six selected races, usually ones that are being shown live on ITV. It costs £2 to play and your aim is to pick the winner of all six races.
The Scoop6 pool is split into three separate funds – the win fund, the bonus fund and the place fund. To win your share of the win fund, you'll need to pick the winner of all six Scoop6 races. If all six of your horses are placed, you'll win your share of the place fund.
All win fund winners can register to play for the bonus fund the following week. To win a share of the bonus fund, you'll need to pick the winner of the nominated bonus race.
Bet just £2 and you could win £15 MILLION! So if you know your racing, you have the chance to win a life changing amount of money.
Even if your horses don't all win, you can still make a big profit. One of the best things about the Scoop6 is that you get a consolation payout if all six of your selections are placed. The average place fund payout over the last 12 months is £882, so even a near miss can put some serious money in your pocket.
How To Play Scoop6
So now you know which bookies do Scoop6 and how the prizes work, let's look at how you play. In this example we're going to fill in a Scoop6 coupon and show you how they work. If you want to follow along with this example, log into your Sun Bets account or click below to open one.
Join Sun Bets Now   
Bet £10 Get £30 For All New Customers
Here's what the coupon will look like. You can see on the right hand side, the grid shows your selections in each of the 6 nominated races. Of course these are empty to start with. The runners for the first race are shown to the left of your screen.
Making Your Selections
For each race, select at least one horse by ticking the box next to its name on the coupon. This is highlighted by the green arrow below. To move between races, you use the forward button at the top. This is highlighted by the red arrow below.
To give yourself a better chance of winning, you can perm your selections by picking multiple horses in each race. Remember, the more horses you pick, the more your bet will cost. So although it might be tempting to choose a lot of perms, just keep an eye on your stake. In this example, we'll keep it simple by just picking one horse per race.
Picking The Unnamed Favourite
Some races have a history of being won by the favoirite. However, you might not know at this stage which horse will start as favourite. Therefore you have the option of just picking the unnamed favourite by ticking the top box as highlighted by the green arrow.
So in this example you have selected the favourite in Leg 2 of your coupon. Whichever horse starts as SP favourite in this race will be your selection in this race.
Fill Out A Selection For Each Leg
Continue through the coupon and make sure you select at least one horse in each race.
Place Your Bet
When you've finished, scroll down to the bottom of the coupon. Here you'll find the green Bet Now button. Now you just need to click this to place your bet.

Remember that in this example you only selected one horse in each leg, therefore the stake is £2. But you do have the option to select more than one horse in certain legs. This is known as a perm, and it means your required stake would be higher. The stake is always shown before you place your bet, so you are always in control. And of course you can always go back and add or remove selections if you like.
Join Sun Bets Now   
Bet £10 Get £30 For All New Customers
So now it's over to you! You know which bookies do scoop6. You know how the prizes work, and you know how to play. So if you want a share of that prize fund, open your account at one of the bookmakers listed above and test your knowledge on this week's coupon. It could be your week to land the jackpot!