Which Bookies Offer Cash Out?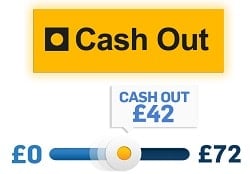 You might have heard that some bookmakers now let you take profits on your bets early. But do you know which bookies offer cash out, or how it works? It's worth finding out, because this feature can often make the difference between a winning bet and a losing one. Cash out is an incredibly popular feature which allows you to take your profits on a bet at any time you like.
If this appeals to you, then read on. Because in this article we're going to look at what cash out is, and how it can help you. But first, you need to make sure that the bookie you join has cash out available. So let's see which bookies offer cash out.
List Of Bookies That Allow Cash Out
Bookie
Cash Out
Partial Cash Out
Markets
Join

18+ Ts & Cs Apply. Click button for more details.

Betfair

Football, Tennis, Horse Racing, Golf, Basketball

Join Now   

Paddy Power

Football, Tennis, Horse Racing, Golf, Rugby, Cricket, Basketball, Cycling

Join Now   

GENTING BET

Football, Tennis, Horse Racing

Join Now   

32RedSport
Any Live In-Play event

Join Now   

888sport

Selected events, single bets only

Join Now   
This list shows the bookmakers that offer cash out, and those that also offer partial cash out. The difference between these two features is explained below. We have also listed the markets in which cash out is offered at each bookmaker.
As you can see, there is some variation between the bookmakers in terms of when and how you can cash out your bets. So you need to choose carefully depending on what sports you bet on, and whether you want to use partial cash out or not. If your current bookmaker is not offering what you need, then it would be in your interests to open an account with a bookie that does. You can also check out the bookmaker reviews for details on what else each bookie is offering.
Which Bookies Offer Cash Out On Accumulators?
Some bookmakers also let you cash out accumulator bets as well as singles. This is very handy if you have an accumulator with a lot of selections, and the first few have won. You might decide that you'd rather take the money early instead of risk your profit by waiting for the rest of the results. It's a good option to have.
What Is Cash Out?
Cash Out is a feature that is available at certain online bookmakers. It allows you to take your profit from a bet (or cut short your loss) at any time you choose. For example let's say you have bet on Man Utd to win. If they take the lead, you will have the opportunity to cash out your bet at a profit.
It works in a similar way in other sports. If the team or player you backed is winning, you should be able to cash out at a profit. If they are losing, then cashing out will mean you recover some of your stake and don't lose the whole amount. You can also cash out on multiples. If the first four teams in your five team football accumulator win, you can take a profit before the fifth match is even played. The same goes for horse racing accumulators, or any other sport.
Most bookies have the main sports such as football and tennis covered. But if you prefer to bet on a wider variety of sports then not all bookmakers are the same. Some bookies cover more sports than others, so you need to consult the list above to see which bookies offer cash out on the sports that you like to bet on.
Once you have cashed out, your profit is locked in and is usually credited to your account straight away. No matter what happens in the rest of the match, your money is safe.
What Is Partial Cash Out?
Sometimes you might struggle to decide whether to cash out your bet early, or let it run for the full profit. In this case, partial cash out offers you the best of both worlds. Using this feature, you could decide to cash out just a part of your stake, and leave the rest running. By cashing in part of your stake you can often guarantee a small profit regardless. But you can also leave the rest of the stake to hopefully secure a bigger profit at the end.
Not all bookmakers offer partial cash out. If this is something you want to use, consult the table above. Make sure you open an account with a bookmaker that offers this feature.