Which Bookies Offer Free Bets?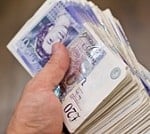 It's no secret that online betting sites want your business. In fact, they're prepared to pay for it! These days, many of the major bookies offer some pretty big incentives when you open a new account. But which bookies offer free bets to new customers? How much can you claim, and how do you know which ones are the best? This article is here to help.
We have the complete, up to date list below. So if you're looking to open a new online betting account, you're in for a treat. Read on to see what's on offer…
Full List Of Bookies That Offer Free Bets
We keep these offers bang up to date, so you can always see the very latest deals and promotions right here. But we only feature sign up offers from bookies that we have personally approved. So when you claim one of these offers, you know that the bookie is legit, regulated and will pay out.
Please note that the offers above are welcome bonuses, which means they are available to new customers only. You can claim them when you sign up for a new account. Here's how to do it…
How To Claim Your Welcome Bonus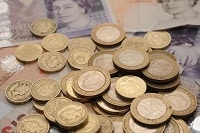 So now we've shown you which bookies offer free bets, let's take a quick look at how to claim them. The process is pretty much the same for all of the bookmakers on the list. So here are the simple steps you need to follow:
Choose an offer to claim from the list above, and click on the Claim Now button.
The next screen will display full details and terms and conditions. When you've read them, click on the button to open a new account.
Register your details to open a new account. It takes just 2 minutes and is very straightforward. if you need more help, we have guides on how to open an account at several of the most popular bookies including bet365 and Betfair.
Deposit and make your first bet. The minimum amount you need to deposit depends on the terms of the bookmaker's offer, as shown in the table above.
Your free bet will usually be credited to your account as soon as your first bet is settled.
Do I Need A Promo Code?
Some bookmakers do require a promo code, and others don't. If a code is required, it will be displayed in the table above. Simply type the code into the relevant box when you're signing up for your new account. Or better still, copy and paste to make sure you don't make any typos.
If no promo code is displayed in the table, it means you don't need one.
When Do I Get My Bonus?
It depends on which bookmaker you've joined. Normally, your bonus is credited to your account after your first bet is settled. That means if your first bet is on a horse race, your free bet should be credited when the official results are in. If your first bet is on football, it should be after the match finishes.
All of the bookies on the list above offer full customer support via e-mail, phone or live chat. So if you have any questions about your bonus, they'll be happy to help you out.
How Do I Use A Free Bet?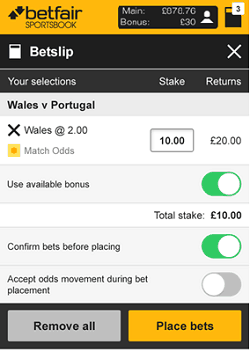 Again this depends on the bookmaker. Normally, as soon as you've qualified, your free bet token is added to your account automatically. So when you come to place your next bet, the betslip will have the option to use your token as a stake, instead of taking the money from your account balance.
This is an example of how it would look at Betfair. By checking the option that says "Use Available Bonus" you choose to place the bet with your free balance, not with your cash balance. This option would only appear when you have a free bet token available in your account.
For other bookies the wording may differ slightly but the principle is always the same. It is pretty straightforward, but again the bookie's helpdesk will answer any questions you might have.
How Many New Account Offers Can I Claim?
There is no limit to the number of bookmakers that you can have an account with. So every bookmaker you have not yet joined means another bonus you can still claim!
Remember it only takes 2 minutes to open an account, so that's a lot of free cash available for very little effort. Work your way through the list and take advantage of every bonus you can.
Which Bookies Offer Free Bets To Existing Customers?
All of the bonuses listed above are for new customers only, so you can only claim them once per person. However, some bookmakers have loyalty schemes where existing customers can claim regular free bets.
Bookie
Offer
Join

RaceBets

Bet & Jet - £5 Free Bet Every Day
New & existing customers - Horse Racing

Join Now   

Mr Green

Free Bets Club - £5 Free Bet Every Week
New & existing customers - Any Sport

Join Now   

888sport

Free Bet Saturday - £5 Free Bet Every Week
New & existing customers - Football

Join Now   
All of the above loyalty schemes allow you to claim regular bonuses even after you've signed up. Again, there is no reason why you can't join them all.
Getting Started…
So now you know which bookies offer free bets, and how to claim them. You also know when your bonus will be added to your account, and how to use it. The only thing that's left is for you to get started and claim as many sign up offers as you can!
If you don't have time to work through the full list today, simply bookmark this page and you can come back and get the rest tomorrow. But really there's no time like the present, so why not claim your first bonus now!