Which Bookies Pay 5 Places Each Way?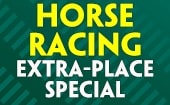 Fans of each way betting are often on the lookout for bookies that pay extra places on their each way bets. This extra place can turn a losing bet into a winner and put more money in your pocket. But which bookies pay 5 places (or more) and on what events? Read on to find out…
List Of Bookies Paying Extra Places
Here's a list of the bookmakers that are paying out on extra places at upcoming sporting events. If you're betting each way on any of these events then you could be much better off placing your bets here…
Bookie
Offer
Join

18+ Ts & Cs Apply. Click button for more details.

Betfair

Each Way Edge - Paying extra places on any UK or Irish horse race!
Simply add places to any race from within your betslip.

Join Now   

Paddy Power

Horse Racing - Paying extra places on selected races every day

Join Now   

Paddy Power

2018 Grand National - Extra Places - Paying 6 Places Each Way
EW Terms: (1/5 Odds | 6 Places)

Join Now   
It doesn't matter whether you're betting on horse racing, golf or any other market that allows each way betting. The fact is, if your bookmaker is only paying out on the first two or three finishers, you could miss out on extra profits.
The table above is updated regularly and contains an up to date list of which bookies pay 5 places. We recommend you bookmark this page and check back before you place your next each way bet.
What Does Extra Places Mean?
When you place an each way bet, your stake is split in half. One half is used to back the selection to win, the other half is used to back the selection to place.
The "to place" part of your bet is the key here. It means you get paid out if your selection finishes in the top 3 or 4, depending on the size of the field (e.g. how many horses in the race). If a bookmaker is paying 5 places, it means that you'd still get paid if your selection finished 5th. And if they pay 6 places, you get paid even if your selection finishes 6th, and so on.
As you can see, this can easily make the difference between a losing bet and a winning one. So if you bet each way, you should always check which bookies pay 5 places on the event before you place your bet.
Which Bookies Pay 5 Places Most Often?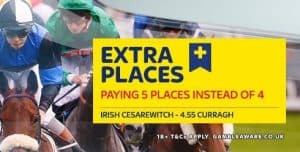 Different bookmakers will pay an extra place on different events. For example, there can often be four or five bookmakers that might run this offer on big horse races such as the Grand National or Cheltenham Gold Cup.
In general, Paddy Power is the best choice, as they do extra place offers on a horse race every day. They are also most likely to offer an extra place on golf tournaments.
It depends what you want to bet on. That's why you should check back at this page before you place your each way bet.