Would You Bet On England Winning The World Cup?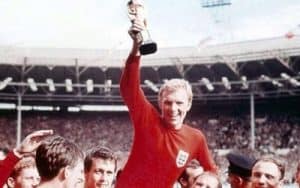 As we get closer to the start of the World Cup, it's traditionally a time when most of us start to feel patriotic.
We dust off our retro England shirts, drape flags from our car or house windows, and start listening to our old Three Lions singles. Also, many of us go a step further and actually go and place a bet on England to win the World Cup.
But is this a good idea? Obviously in recent years, this bet hasn't been a profitable one. We all remember how poorly England have played at major tournaments since 1996. So is betting on England just throwing your money away, or is this actually a bet worth placing? We decided to investigate.
Examining The Best Bookies Odds
So firstly, what are the odds on England to win the World Cup? We looked at a selection of the best World Cup bookies online, and took an average price on England in the outright winners market. Therefore, we can state with confidence that you can expect to get 16/1 on England to win the tournament.
So is that a good bet? Well, with any bet you place the key to making a long term profit is to get value. But how do we determine whether this is the case here?
Do England Have Any Chance?
A simplistic way of looking at it is to look at the overall record. We know that England haven't won the World Cup since 1966, which is 52 years. Since the tournament is held every four years, that means that there have been 12 tournaments since England last won. But the odds say that England have a one in sixteen chance of winning, so from an overall point of view, these odds are actually generous.
Of course, there's a lot more to consider than just the overall record. We also have to factor in the strength of the opponents. This year, there are several teams with shorter odds than England. These include Brazil, Germany, Spain, France, Argentina and Belgium. But other teams such as Italy and Holland, who would normally be amongst the favourites, haven't qualified.
So although there are teams who are considered superior to England, there are less of them than in past tournaments. Therefore you might argue that they have more of a chance this time than they have in the past.
The Option To Cash Out
Remember that these days when you place any bet, you don't have to see it through to its conclusion. When you use any of the World Cup bookies that offer cash out, which are listed here, you can take your profit at any time. So in this case, if England make it through the first couple of rounds, you should be in a position to take a guaranteed profit even if they don't go on to win.
So Should I Bet?
None of this means we're tipping England, or that we think it's necessarily a value bet to back them. Unfortunately that is something that only you can decide. The purpose of this article was to give you some criteria you might want to consider before deciding whether to bet on England or not.
At the end of the day, it's your money and you need to decide how to spend it. But do consider the facts first and try to keep emotions (and recent disappointments) out of the decision making. You might conclude that perhaps backing England isn't the sucker play that some people would make it out to be.